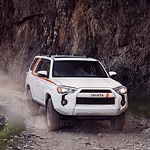 The 2022 Toyota 4Runner here at Lost Pines Toyota is one of the safest SUVs in Austin, TX. The traction Control system senses wheel slip and can reduce power delivery to help keep all four wheels on the ground. The stability control system helps maintain vehicle stability by detecting skidding or drifting and then adjusting the brakes accordingly.
The Toyota 4Runner is equipped with a brake assist system that increases brake force when it detects emergency braking. This helps you stop quicker and with more control. The active head restraints act as a cushion in case of a rear-end collision to help reduce the risk of whiplash or other neck injuries.
The Toyota 4runner's lane departure alert helps keep you in your lane by audibly alerting the driver when it senses unintentional drifting. This can help reduce the chances of an accident due to human error. The pre-collision system can detect obstacles in front of the 4runner and apply brakes automatically, helping to minimize or avoid frontal collisions.