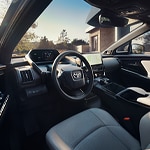 The 2023 Toyota bZ4X is a game-changing electric crossover that guarantees an unprecedented driving experience. It is built on the powerful e-TNGA platform, which offers performance capabilities and maneuverability not found in traditional gasoline vehicles. With its 300-mile range when fully charged, this revolutionary model can easily support long journeys and daily commutes in Bastrop, TX - making it a must-have for car owners everywhere!
Drivers will appreciate the advanced technologies featured in the Toyota bZ4x. Thanks to standard features like adaptive cruise control and Lane Keep Assist, drivers can enjoy a smoother drive with more confidence. The large display screen provides easy access to essential information while on the go, and the intuitive controls provide effortless interaction between driver and machine.
With its exceptional design and luxurious features, the Toyota bZ4X stands out from the masses. Its lavish interior provides ample space for passengers and cargo storage, while its advanced audio system produces top-notch sound quality. The exterior offers a sleek yet stylish look that cannot be found on other vehicles for an added touch of sophistication.
If you seek a quality electric vehicle that can meet your expectations and demands, then the 2023 Toyota bZ4X is the ideal choice. Its advanced performance features, cutting-edge technologies, and luxurious amenities will astound you!