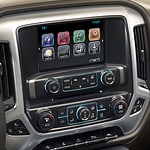 Keep your hands on the wheel and stay connected with Android Auto. With this convenient one-stop interface, you can easily handle all daily tasks without ever taking your eyes off the road! Stream music from popular services, access navigation features for a stress-free drive home, make calls, or send texts using voice commands--the possibilities are endless regarding what Android Auto offers. So get ready to enjoy a safe and organized ride around Bastrop, TX whenever you hit the roads!
Connecting your car's dashboard to Android Auto is a breeze, allowing you to access all the content you need with minimal disruption. The interface of Android Auto has been simplified and organized for it to be intuitively understandable. To top off this brilliant user experience, Android Auto runs on an optimized version of Google's mobile operating system making navigation familiar and effortless like never before!
Android Auto's voice-control feature lets you control compatible applications directly from your car, meaning you don't have to take your eyes off the road. Never miss an important phone call or text while navigating, all these tasks can be done without lifting a finger! This function ensures that you stay connected while keeping your attention on the task at hand: driving safely.