Stormy Days may have passed
but the weathers impact might still be with your vehicles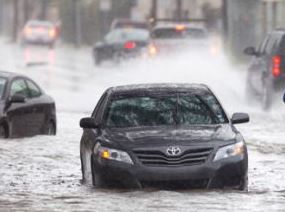 If your vehicle may have experienced flood damage in the recent storm, or unsure if the high water conditions have created hidden damage, we recommend that you have it checked by one of our certified technicians.
Not only can we give you a Health on your Toyota but other Makes and Models you have in your driveway.
Brakes: If the rotors are extremely hot, exposure to water can warp them. Calipers can stick or corrode.
Undercarriage: Driving through high water areas can lead to potential snags, punctures and debris build ups under the vehicle or in areas not visible from the surface.
Electronic Systems: Many manufacturers install electronic systems in the floorboards and under the seats. Water damage to these components can result in all sorts of electrical and electronic problems. Come see us if you're experiencing an electronic system malfunction.
Engine Intake System: Water in the intake system ultimately gets into the cylinders, in which pistons compress air. But water doesn't compress, so it can potentially damage your engine, especially if you have driven through a puddle or flood zone.